Shrimp Scampi with Asparagus and Tomatoes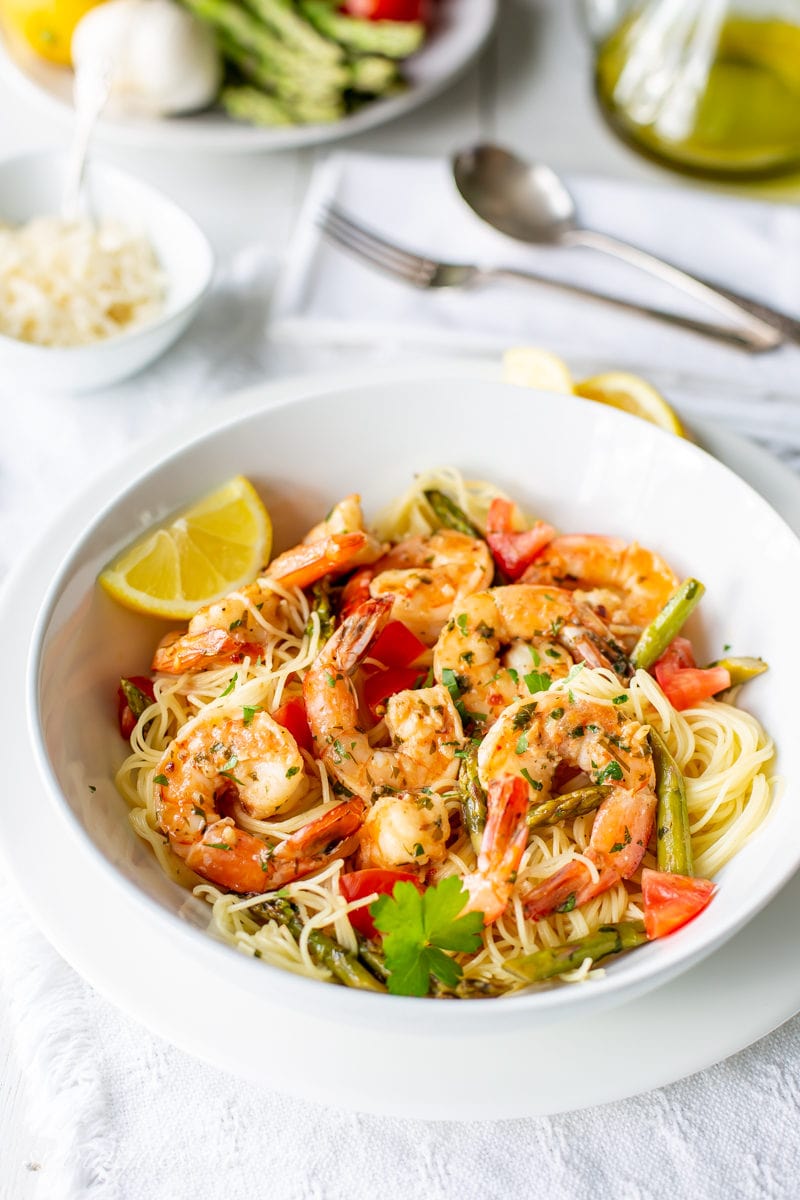 Classic Shrimp Scampi tossed with garden fresh asparagus and tomatoes for a wonderful restaurant quality meal you can make at home
3/4

pound

angel hair pasta

4

tablespoons

unsalted butter

2

tablespoons

extra-virgin olive oil,

plus extra for drizzling

2

tablespoons

minced garlic,

more or less to taste

1/4

teaspoon

crushed red pepper flakes

1

pound

shrimp,

peeled and deveined

salt and freshly ground pepper

1/2

cup

dry white wine

juice of 1/2 lemon

3

tablespoons

finely chopped parsley leaves

10 - 12

thin stalks of fresh asparagus

cut into 2-inch pieces

1/2 - 2/3

cup

chopped tomatoes,

seeds removed

Grated Parmesan for garnish,

if desired
Bring a large pot of water to a boil. Reduce the heat to a low simmer while preparing the shrimp.

In a large skillet melt 2 tablespoons butter and 2 tablespoons olive oil in a large skillet over medium-high heat.

Sauté the garlic and red pepper flakes for about 2 minutes. Season the shrimp with salt and pepper and add them to the butter and garlic mixture. Cook the shrimp for about 2 minutes on each side, or until they have turned pink Remove the shrimp from the pan using a slotted spoon. Set aside and keep warm.

Add the wine, lemon juice and asparagus to the pan and bring to a boil. Add the remaining 2 tablespoons butter. When the butter has melted add the shrimp to the skillet along with the parsley. Stir to combine and remove from the heat.

Turn the pot of water to high and bring to a boil. Add the pasta and cook until al dente - about 2-3 minutes. Drain the angel hair pasta and return it to the pot. Toss with a drizzle of olive oil.

Toss the shrimp and asparagus with the cooked pasta and add the tomatoes. Season with salt and pepper and drizzle with additional olive oil if desired.

Lightly sprinkle with grated Parmesan to serve.
This dish needs some salt so be sure to check the seasoning before serving.

A little grated Parmesan gives it that extra salty punch.

The asparagus doesn't need cooked for more than a minute or so. You want it to be crisp tender so use thin stalks in this recipe or precook thicker stalks by steaming if needed.

Serve with crusty bread and a bottle of dry white wine for a lovely meal - don't forget the white table cloth!