Tropical Shrimp Rice Bowl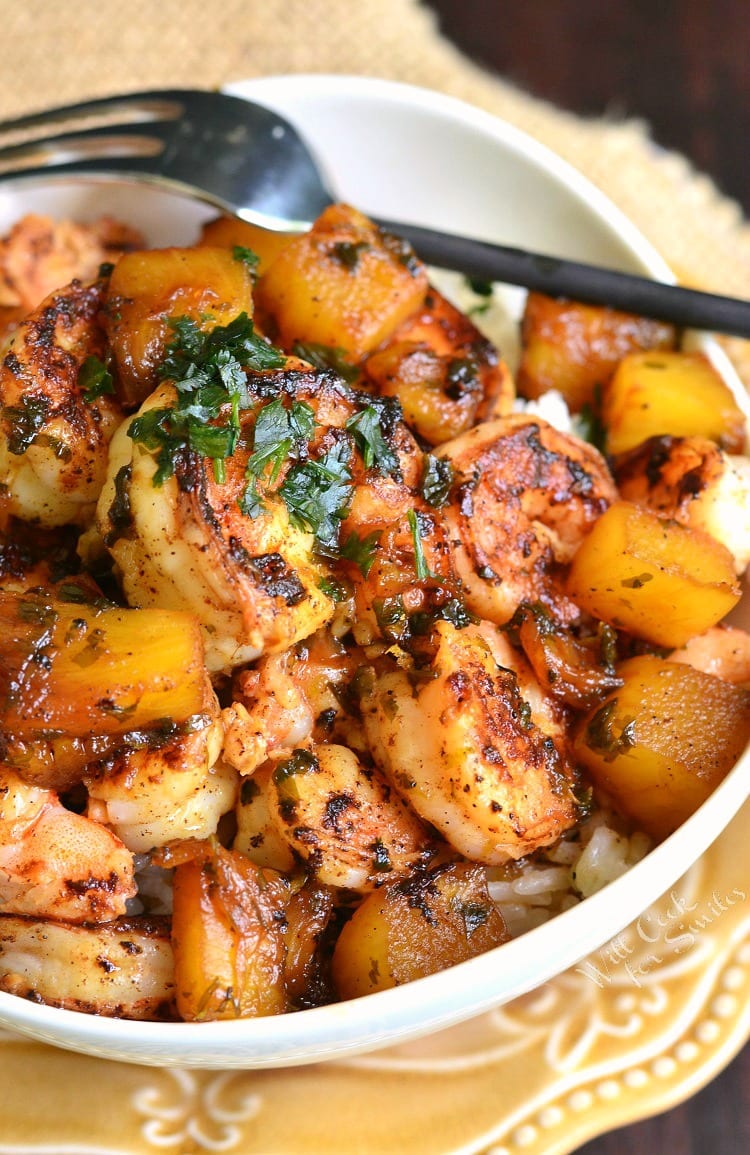 This dish is made with juicy shrimp, sweet pineapples, and a beautiful sweet, tangy, and spicy sauce.
3

cups

cooked rice

1/2

Tbsp

fresh minced cilantro

Salt

Shrimp:

1/2

lb

shrimp

2

tsp

lime juice

2

Tbsp

pineapple juice

1/4

tsp

chili powder

Salt

Sauce:

8

oz

can of pineapple chunks

drain but save the juice

1/2

cup

pineapple juice

1 1/2

Tbsp

soy sauce

1

Tbsp

honey

Zest from 1 lime

Juice from 1 lime

1/2

tsp

chili powder

1

Tbsp

fresh

minced cilantro
Cook rice in slightly salted water, according to the package instructions. Stir in some fresh cilantro and set aside. (Divide rice between two bowls when ready to serve.)

For the sauce: mix together pineapple juice, soy sauce, honey, lime juice, lime zest, chili powder, and cilantro. Set aside until ready to use.

Peel, de-vein, and rinse shrimp. Mix shrimp with lime juice, pineapple juice, chili powder, and salt in a bowl and let it sit while preheating a cooking pan.

Preheat a cooking pan with about a tablespoon of oil over medium-high heat. Once the pan is hot, sear shrimp until pink and opaque on both sides. Take out and set aside. (You can save the juice from marinating the shrimp and add it to the sauce.)

Add a little bit more oil to the pan and add drained pineapple chunks. Sear pineapple chunks until nicely browned. Lower the hear to medium.

Stir and add sauce to the pan. Stir and let it simmer for 2-3 minutes.

Quickly stir in shrimp and divide the shrimp, pineapple, and sauce mixture over the two rice bowls.