Baja Fish Tacos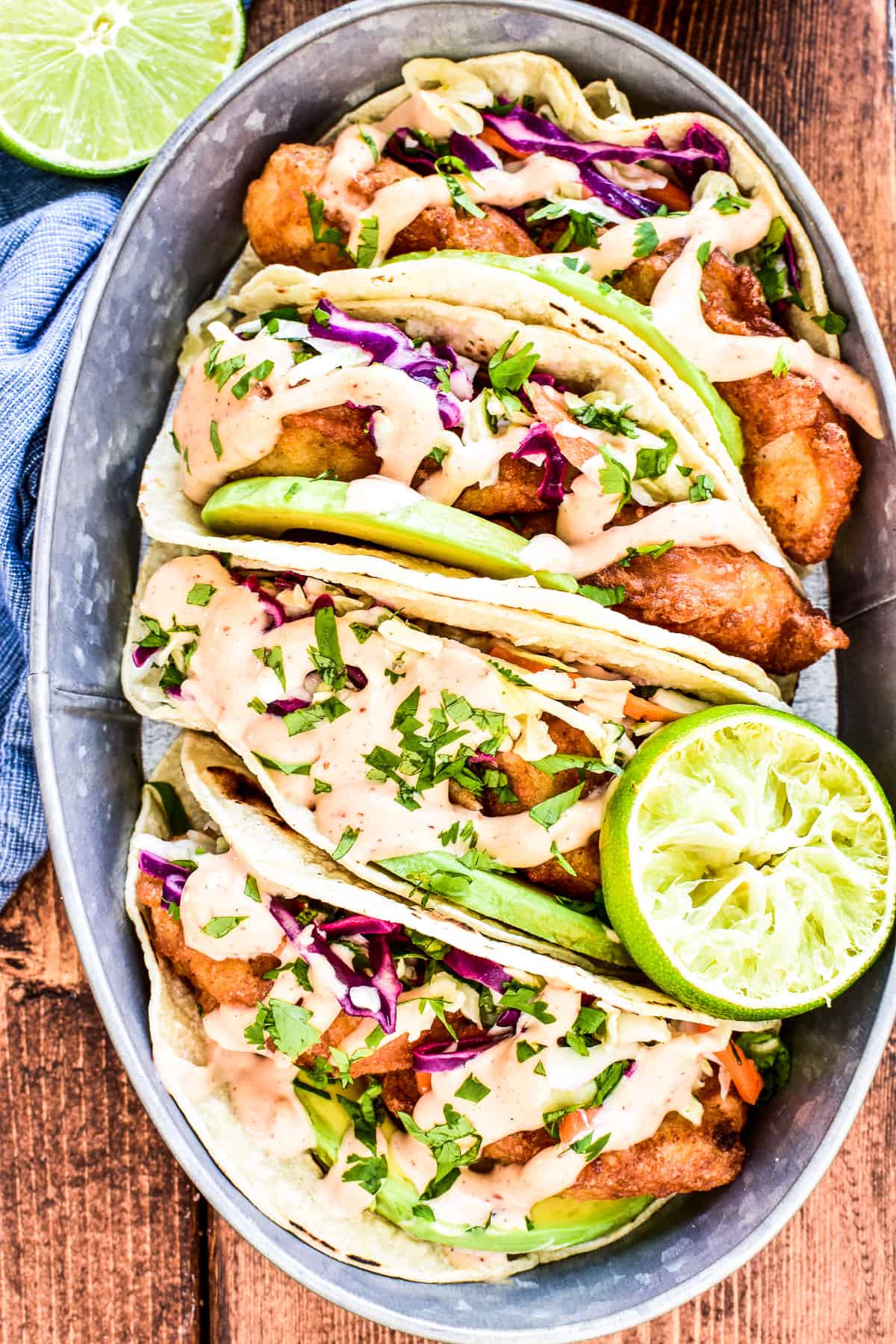 The BEST Fish Tacos! Loaded with citrus slaw, avocado, and spicy chipotle mayo, these tacos are packed with delicious flavor and perfect for the whole family. Whether you're doing fish on Fridays for Lent or just looking for a new twist on Taco Tuesday, these Baja Fish Tacos are better than restaurant quality. They're the perfect blend of crispy, crunchy, spicy, and oh so delicious. Guaranteed to become a new favorite!
Ingredients
Fish
1 ½ - 2 lbs. fresh cod, sliced

1 c. all purpose flour

½ c. panko bread crumbs

12 oz. beer (any light beer will work well)

1 tsp. cumin

1 tsp. garlic powder

1 tsp. onion powder

1 tsp. chili powder

1 tsp. salt
Citrus Slaw
2 c. cole slaw mix

½ c. cilantro

2 Tbsp. lime juice

2 Tbsp. pineapple juice

1/8 tsp. salt
Chipotle Mayo
½ c. mayo

1 tsp. honey

1 tsp. adobo sauce
Other
2 c. Canola oil

1 package white corn tortillas

1-2 avocados, thinly sliced
Instructions
Prepare citrus slaw by combining all ingredients in a small mixing bowl. Set aside.

Prepare sauce by combining all ingredients in a small mixing bowl. Set aside.

Slice cod into 1x2 inch pieces. Pat dry with a paper towel.

Prepare batter by combining flour, panko bread crumbs, beer, and seasonings in a medium mixing bowl. Mix well.

Pour canola oil into a medium skillet, filling it about 1 inch deep. Heat on medium-high.

Dip fish into batter. Working in small batches, add battered fish to hot oil. Fry for 2 minutes on each side or until golden brown.

Remove fish from oil and place on a wire rack. Continue until all fish is fried.

Heat tortillas as desired. Assemble tacos by adding fish, citrus slaw, and sliced avocado to tortillas. Top with sauce and additional cilantro, as desired.