Chocolate Strawberry Sandwich Cookies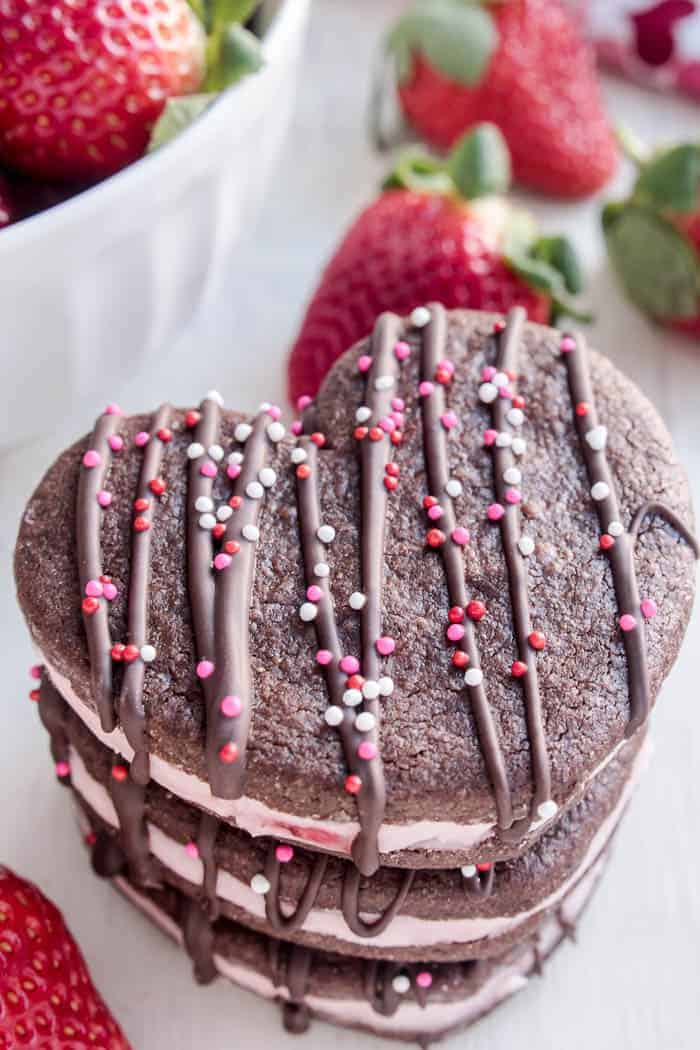 You're sure to fall in love with these adorable chocolate strawberry cookies – perfect for classroom parties, teacher gifts, or a special Valentine's Day treat.
Ingredients
Chocolate Cookies
1 1/2 cups Simple Truth flour

1/2 cup unsweetened cocoa powder

1 tsp. baking powder

1/4 tsp. salt

3/4 cup unsalted Simple Truth butter, *at room temperature

1 1/4 cups Simple Truth sugar

1 egg

1 tsp. vanilla
Strawberry Creme Filling
1 stick unsalted Simple Truth butter, at room temperature

4 oz. Simple Truth cream cheese, at room temperature

1/2 cup fresh strawberries, sliced

4 cups powdered sugar

12 oz. milk chocolate chips

candy sprinkles
Instructions
Chocolate Cookies
In a small mixing bowl, combine Simple Truth flour, cocoa powder, baking powder, and salt. Set aside.

In a separate mixing bowl, cream Simple Truth butter and sugar until smooth.

Beat in egg and vanilla, then gradually add dry ingredients and mix until dough forms.

Gather dough into a ball, wrap in plastic wrap, and flatten. Chill 1 hour.

Remove dough from refrigerator and roll out onto a floured surface. Dough should be approx. 1/8 inch thick.

Use cookie cutters to cut into 36 cookies. (*I used a 2 1/2 inch cookie cutter. Number of cookies may vary based on cookie cutter size.)

Place cookies on a baking sheet lined with parchment paper. Bake at 375° for 10 minutes.

Cool 10 minutes on baking sheet, then remove to a wire rack to cool completely.
Strawberry Creme Filling
In a medium mixing bowl, combine butter and cream cheese. Mix until blended and creamy.

Puree strawberries; blend puree into butter mixture.

Add powdered sugar, a little bit at a time, until you reach desired consistency. (I used all 4 cups.)

Chill filling 1 hour or until firm. Spread filling generously inside 2 chocolate sugar cookies. Scrape edges as needed.

Melt chocolate chips; drizzle over sandwich cookies and top with candy sprinkles.