Lemony Chicken and Rice Soup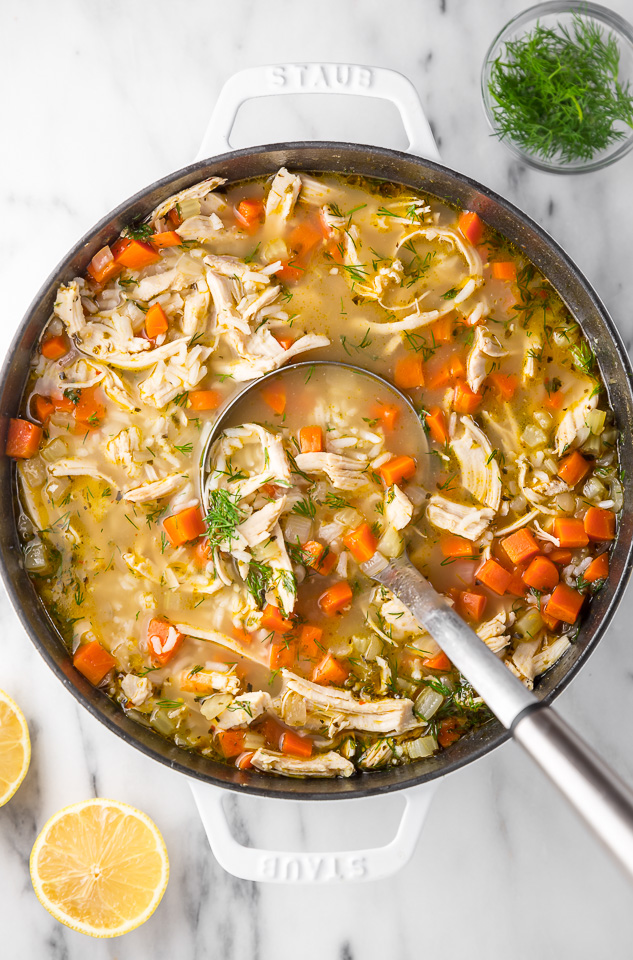 This Lemony Chicken and Rice Soup is SO delicious and comforting you'll want to curl up with a big bowl all Winter long! Loaded with tender chicken, tons of veggies, and plenty of rice, this soup is total comfort food. To make this recipe extra quick and easy, skip roasting the chicken and use a store-bought rotisserie chicken instead!
Ingredients
For the Lemon Chicken:
1 and 1/4 pounds skinless, boneless chicken breast

2 and 1/2 Tablespoons olive oil

2 Tablespoons lemon juice

1 teaspoon garlic powder

3/4 teaspoon salt

3/4 teaspoon ground black pepper
1 cup long grain white rice

1/2 teaspoon salt

Water (check your package instructions to see how much water is called for)
For the Lemony Chicken and Rice Soup:
2 tablespoons olive oil

3 large carrots, peeled and diced

2 stalks celery, diced

1 large onion, finely diced

6 cloves garlic, minced

1 teaspoon salt

1/2 teaspoon black pepper

6 cups chicken stock (or chicken bone broth)

1 cup water

2 bay leaves

1/3 cup fresh lemon juice

1/4 cup to 1/2 cup fresh dill, chopped

1/3 cup finely grated Parmesan cheese
Instructions
For the Lemon Chicken:
Preheat oven to 375 degrees(F). In a small bowl combine the olive oil, lemon juice, garlic powder, salt and pepper; whisk well to combine.

Place chicken breast in a small baking dish and drizzle with marinade, toss well to ensure both sides are well coated.

Place in the oven and bake for 28 minutes, or until the chicken is cooked through, flipping at the halfway point.

Cool slightly, then - using two forks or your hands - shred the chicken into small chunks. Set aside.
For the Rice:
Cook rice according to package instructions. Once cooked, fluff and remove from heat. Set aside until needed.
For the Lemony Chicken and Rice Soup:
Heat oil in a large soup pot over a medium-heat. Add carrots, celery, and onion, and cook, stirring occasionally, for 5 to 6 minutes. Add garlic and cook for another minute, or until fragrant. Add in salt and pepper and stir to combine. Pour in the chicken stock and water. Then toss in the bay leaves.

Increase heat to medium-high and bring soup to a boil. Reduce heat to a simmer and cook for 30 minutes.

Stir in cooked chicken and rice and cook for another 5 minutes. Stir in lemon juice, dill, and Parmesan cheese. Taste soup and adjust seasoning, if needed.

Remove from heat and serve at once! Soup will keep, covered in the fridge, for up to 5 days! If it becomes too thick, add a little chicken broth or water.