Shrimp Po Boys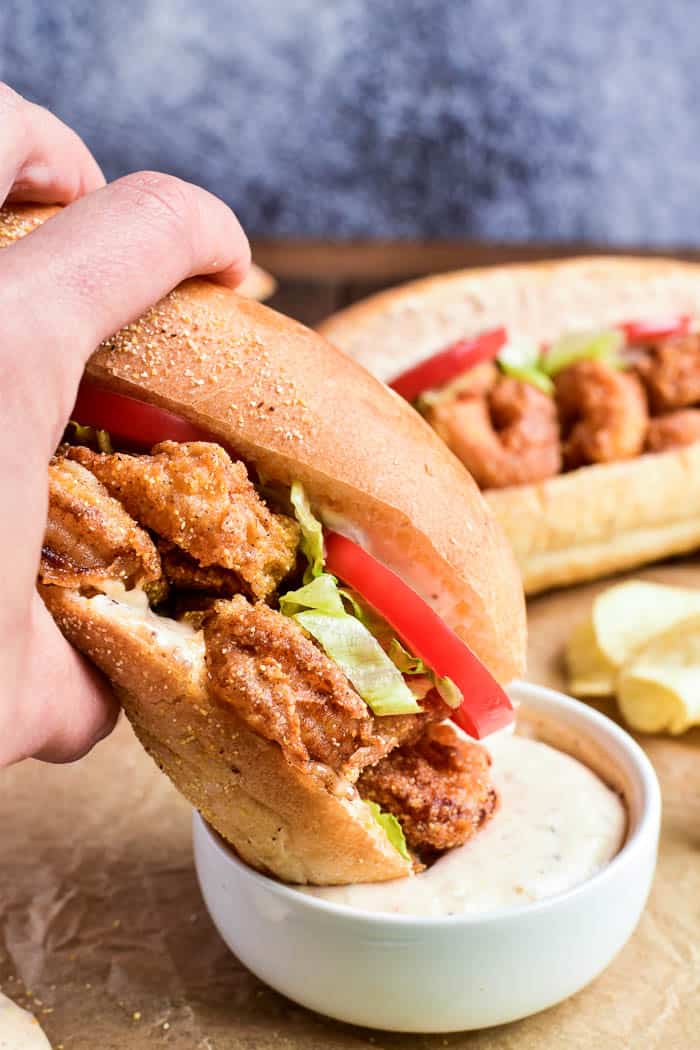 Shrimp Po Boys are the ultimate game day food. They're quick and easy to make and packed with the most delicious flavor. These sandwiches start with a crusty baguette and Cajun fried shrimp, but my favorite part about them by far is the sauce. It's the kind of sauce I literally want to put on everything, and trust me....you will, too!
Ingredients
2 lbs. medium shrimp, peeled and deveined

1 c. buttermilk

2 eggs

1 1/2 c. all purpose flour

1/2 c. cornmeal

2 Tbsp. Cajun or Crele seasoning

Canola or vegetable oil for frying

1/2 c. Hellman's Real Mayonnaise

1 Tbsp. stone ground mustard

1 Tbsp. sweet relish

1 tsp. lemon juice

1 tsp. hot sauce

1/4 tsp. Cajun or Creole seasoning

4 French rolls, split horizontally

1-2 tomatoes, thinly sliced

1 c. shredded lettuce
Instructions
Attach a deep-fry thermometer to the side of a heavy pan. Add enough oil to measure 2". Heat oil over medium-high heat to 350°.

While oil is heating, combine buttermilk and eggs in a large bowl; whisk well.

In a separate large bowl, combine flour, cornmeal, and seasoning.

Working in batches, dip shrimp in buttermilk mixture, then in flour mixture until fully coated.

Drop shrimp into hot oil and fry until golden brown and crispy, about 5-6 minutes.

Use a slotted spoon to remove shrimp from oil and transfer to a wire rack to drain.

Prepare remoulade by combining Hellmann's Real Mayonnaise, mustard, relish, lemon juice, hot sauce, and seasoning.

Assemble sandwiches on French rolls with shrimp, lettuce, tomatoes, and remoulade.